This post contains affiliate links which means I may or may not receive compensation when you click on one of my links and make a purchase.
We all need to unplug from our phones and social media once in a blue moon. Sometimes we need to just step away from social media and try to enjoy our time away. For most of us that work from our phones that seems almost bloody impossible considering that's how we connect or even live. How sad is that?
But there is a way to schedule your next story or awesome post without having to even check your platforms while you are unplugged.
We all know about Tailwind and how we all utilize it to schedule our most popular blog posts on Pinterest. As of early this year, it has released the Instagram Version.
Pinterest is always my favorite platform to use. I could spend all day on there if I wanted to, but then I would not get anything done. So whenever I discovered Tailwind I fell I love with how easy and efficient it was to help schedule my own content. When I heard that it has finally unleashed its own Instagram version, I just knew there was hope for me.
Instagram is a whole different animal. Followers drop like flies for those who work hard to earn and keep them. That means posting valuable content daily. Sometimes 1-3 times a day.
So, if you are planning that week long excursion overseas or on the sea, you may not have to fret about losing followers yet. Tailwind will now be your best friend.
For those of you new to the blogging world, Tailwind is a very convenient auto posting tool that helps schedule your posts and pins at times when your audience is most likely to engage. This comes in hand especially when you are least available and no longer have to worry about missing an important posting time.
What's more exciting is the super rad features they have recently come out with to help post content at the best times.
(This one has been around since they launched the Instagram version but still very important to mention.)
Hashtags can be a headache sometimes because they are one of the most important factors in building audience engagement but sometimes using too many or the wrong ones can work against us rather than for us.
It automatically generates relatable and relevant hashtags that are best matched for the posts and niche. That eliminates so much time wasted on searching for all those popular tags that really did nothing for my posts.
Their newest features are super efficient and effective in providing the content be scheduled to post the most crucial times even when you are unplugged.
-Switch between auto posts and notifications reminders
While being disengaged from Instagram you can opt to receive reminders through IOS Notifications to help schedule your posts at the best times through Tailwind.
-Auto cropping from Tailwind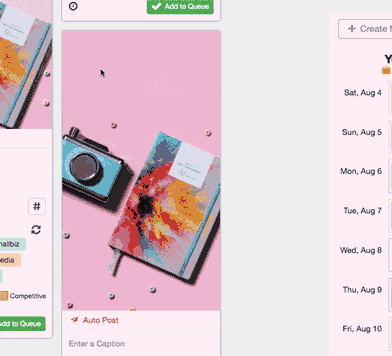 This automatically sets a "smart" crop to images that are too wide or tall so no need to lift a pinky to this.
So, now you can continue to enjoy your much needed time away while Tailwind does most of the work for you. Learn to put your phone away and enjoy all of the best moments. If they are absolutely Instagram worthy, Tailwind will become your new bestie.
So what are you waiting for? Sign up here